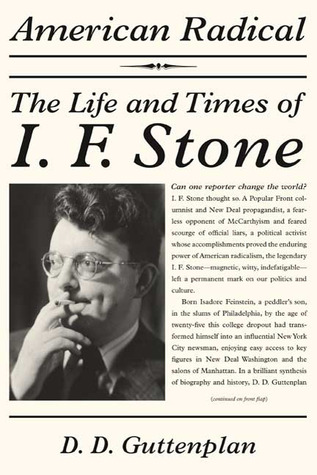 "American Radical is a ripping yarn, a really good read. Guttenplan writes masterfully"
–Julian Assange, from the foreward to the British edition.
Can one reporter change the world?
I. F. Stone thought so. A Popular Front columnist and New Deal propagandist, a fearless opponent of McCarthyism and feared scourge of official liars, a political activist whose accomplishments proved the enduring power of American radicalism, the legendary I. F. Stone - magnetic, witty, indefatigable - left a permanent mark on our politics and culture.
Born Isadore Feinstein, a peddler's son, in the slums of Philadelphia, by the age of twenty-five this college drop out had transformed himself into an influential New York City newsman, enjoying easy access to key figures in New Deal Washington and the salons of Manhattan. In a brilliant synthesis of biography and history, D. D. Guttenplan shows how Stone did it: this masterful account weaves together previously unknown material from archives, interviews, Stone's own words, and thousands of pages of government documents released to Guttenplan under the Freedom of Information Act.
With Stone, we feel the bite of the Depression, the hope inspired by FDR, desperation over the rise of Hitler and fascism, and jubilation when a surviving remnant of European Jewry reached Palestine. From the great sit-down strikes marking the rise of the CIO to the sit-ins for racial equality, from the earliest marches in favor of nuclear disarmament to the gigantic demonstrations against the war in Vietnam - wherever there was an American opposition, Stone was in the thick of it. Reminding us that the man behind I. F Stone's Weekly was a consummate capital insider who regularly scooped other reporter s with impeccably sourced revelations, Guttenplan offers a compelling portrait of America's most revered and reviled radical journalist.
– read more »
New York Review of Books
Guttenplan makes no bones about the moments in Stone's life when he ducked or kept silent on issues that collided with his deeply held beliefs... Always a radical, he was critical of liberals, who he often found were trimmers, weaklings, and liars, although he never hesitated to praise them when he thought they had done the right thing. Throughout his life, his view was, in one of Guttenplan's deft phrases, "Never turn your back on a liberal in a tight corner." I learned a great deal from Guttenplan's book, not least about some aspects of Stone's character that I only partially understood.
- read more »
The New York Times
This admiring but not uncritical biography makes a strong case for I. F. Stone's relevance to our own time.
- read more »
The Washington Post
I.F. Stone was among the most interesting of 20th-century American journalists.
- read more »
The Los Angeles Times
From the '30s through Vietnam, I.F. Stone doggedly reported the truth as he saw it. J. Edgar Hoover saw it a bit differently.
- read more »
In These Times
By the time I.F. "Izzy" Stone died in May 1989 at age 82, he had transformed from America's premier radical journalist into a respectable icon of his profession.
- read more »
Democracy Now! Interview
Twenty years ago today, I.F. Stone died at the age of eighty-one. He was the premier investigative reporter of the twentieth century, a self-described radical journalist. We speak to his biographer, D.D. Guttenplan
- read more »
The Marc Steiner Show
This hour, we discuss the history and legacy of I.F. Stone, one of the towering figures of US journalism in the twentieth century.
- read more »
I.F. Stone: The Case for the Press in a Democracy
November 4, 2009, D. D. Guttenplan writer, Christopher Lydon former radio host, The Connection
Journalist D. D. Guttenplan discusses his new biography of iconic independent journalist I.F. Stone, American Radical: The Life and Times of I.F. Stone, which illuminates Stone's career in light of the current seismic shift in the shape of news-gathering and distribution systems world wide.
DD Guttenplan is London correspondent for the Nation, and the author of
American Radical: The Life and Times of I.F. Stone
. A former reporter and columnist for
New York Newsday
, his essays have appeared in
The Atlantic Monthly, The Financial Times, Granta, Harper's, The London Review of Books, the Los Angeles Times, the New York Times
, the
TLS
,
Vanity Fair
and the
Village Voice
. Born in Virginia, he grew up in Massachusetts, New York, Pennsylvania, Florida and Tennessee, and currently lives in London with his wife, the writer Maria Margaronis, and their three children.
– read more »